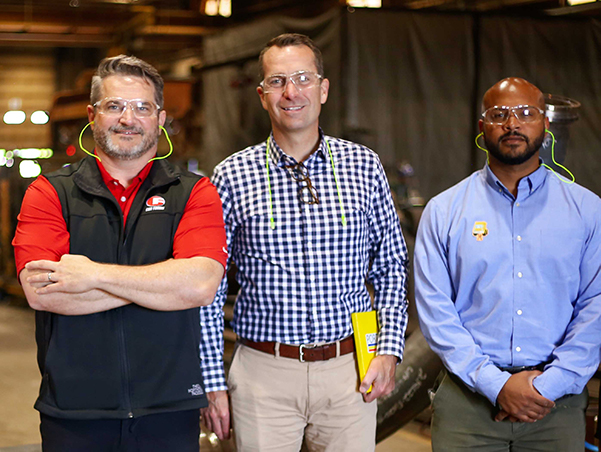 PORT WASHINGTON MAYOR & CITY ADMINISTRATOR VISIT CON FORMS,
A GLOBAL MANUFACTURER OF CONCRETE PIPING SUPPLIES.
Hiring demand increases as Con Forms experiences significant growth.
(PORT WASHINGTON, WI; JULY 8, 2021) — The leadership team at Con Forms met with Mayor Ted Neitzke and City Administrator Tony Brown of Port Washington last week. Discussions included the company's strategic growth plans and local hiring needs. Throughout the visit, the Mayor and Administrator had inquisitive questions and offered their support.
Among many key initiatives, Con Forms is gearing up to launch a new school for welders for all levels, as well as beginners. The afternoon included meeting with the welding instructor and ideating ways to spread the word to the local communities. In addition to the growing demand for welders, they discussed the many open positions within the company to meet customer demand.
"We were gracious for their time and interest in touring our company." said Stefan Brosick, CEO of Construction Forms, Inc. "Above all, our number one focus is people. We must retain and attract talent within our factory to best serve our global customers and capture the tremendous growth in the business."
Con Forms is hiring for all skilled and labor positions and summer temporary support. Visit conforms.com/cf-careers to learn more.
###
About Con Forms
Construction Forms, Inc. (Con Forms) is a global provider of abrasive resistant piping to the concrete and mining industries. For fifty years, Construction Forms' dedication to excellence in product performance and customer service has positioned the organization as a leader in the U.S. and around the world. Headquartered in Port Washington, Wisconsin, Construction Forms has additional locations in California, the United Kingdom, Germany, and Asia.